Je zou toch niet zeggen dat Julia Roberts afgelopen oktober alweer 50 jaar is geworden. Zij bevestigt ook maar weer eens: 'age is just a number'. Alweer 30 jaar in het vak, onwijs knap en die megawatt lach. Ik las het weekend een interview in Instyle (een voetbalmoeder, is gek op koken en mist haar moeder nog elke dag) en wilde het met jullie delen, alleen al om die foto's! Onderaan heb ik ook nog even haar 21 favoriete dingen voor je op een rijtje gezet – een sneaker obsession, beautystuff, fashion – zodat je na het lezen weer helemaal Julia up-to-date bent 🙂  
It was 2001, and Julia Roberts was in the final days of shooting the film America's Sweethearts. I was on set to interview her for Time magazine, and I was excited to meet her. Her publicist, Marcy Engelman, introduced us in the actress's trailer. 'We've met before,' Roberts said. I assured her we had not (I mean, it's not like you'd forget meeting her). But she insisted I seemed familiar, so I suggested that maybe she'd seen me on TV – realizing only after it came out of my mouth that it sounded incredibly douchey. She gave me a look and responded, 'That sounds like something George Clooney would say.' And that was the moment I fell in love with Julia Roberts.
Sixteen years later we are once again in a trailer, this time on a ranch not far from Roberts's Malibu home. It's a blazing hot fall day, so she's taking a break from our cover shoot with the air-conditioning on full blast. Her son Phinnaeus (Finn) – an unerringly polite, sharp, and funny red-haired 12-year-old – is hanging out as well; he's feeling under the weather, so Roberts brought him here to nap under her watch.
He also occasionally monitors the interview. When I ask Roberts what advice she would share for looking and feeling great, Finn comes over and whispers in her ear. She looks back at him. 'Give birth to a redhead?' she asks. He laughs and nods, and Mom answers the question: 'Marry the right person, give birth to a redhead, and have great girlfriends. Those would be the three keys to joy.'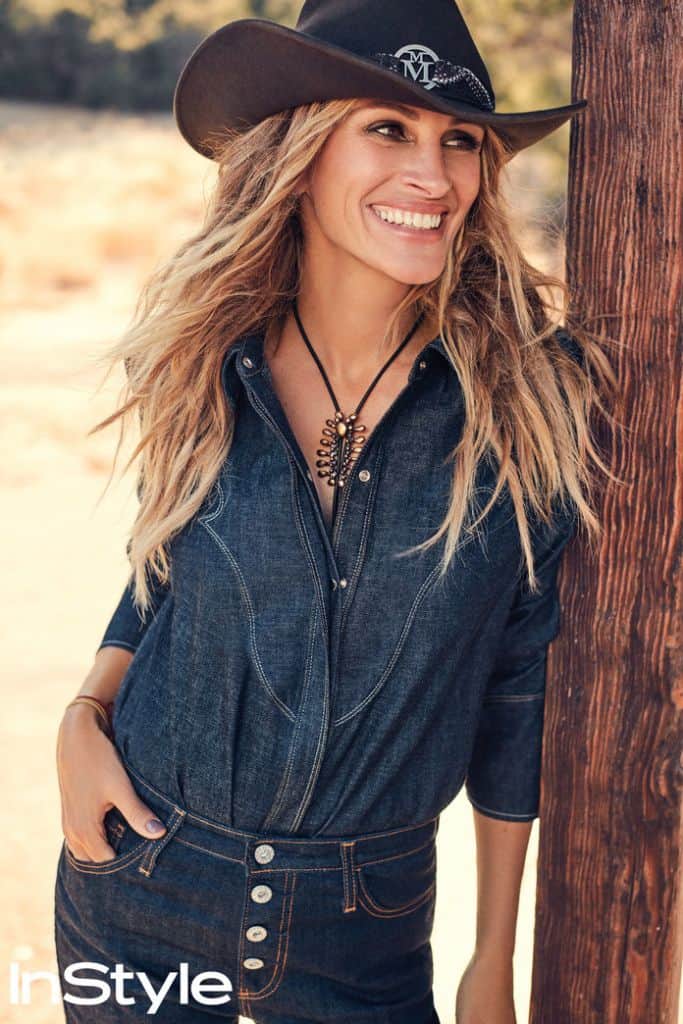 A lot has changed in the past 16 years for Roberts. When we first met, she'd just won the Oscar for Erin Brockovich. Now the role she's most focused on is soccer mom. (She's good at it, and there are performances every weekend.) She turned 50 (on October 28), and she's remarkably sanguine about it. 'I always love my birthday,' she says, and she will celebrate 'with open arms and gratitude … There's nothing different about this birthday than any other one.' She's adamant about this, in part because she's troubled by reporters who ask her about turning 50 as if it must be a source of trauma. 'Really, people?' she says. 'Are we still in that space? Did anyone go over this with George Clooney or Brad [Pitt] before their 50th birthdays?'
Still, this has been a year of milestones for her. Last summer she and her husband, cinematographer Danny Moder, celebrated 15 years of marriage. Their son Henry turned 10 in June. (The family marked the occasion with a soccer party at their house.) In November their twins, Hazel and Finn, turned 13. Watching them grow into teenagers, she says, is bittersweet. 'All the clichés are true,' she says. 'I'm so proud of them but also … '  She momentarily trails off. 'I tried to carry somebody up to bed the other night, and it was just'- she claps twice, like a mom hurrying the kids along-'All right, you're gonna have to get on your feet and sleepwalk because I just can't get up the stairs.'
There have been work milestones as well. Roberts just signed on to produce and star in a TV series for the first time – Amazon's Homecoming, based on the critically acclaimed psychological thriller podcast (it starts shooting early next year). '[Listening to the podcast] you never know what's happening, really, and I love that,' she says. Like many movie stars before her, Roberts believes that TV has become the entertainment industry's most exciting medium: 'I don't want to go against my peoples, but it sort of is. There's a lot of really good content and a lot of diversity.' Still, she considers the project 'a total experiment … I don't even know what it really requires. I just know how to watch a TV show. I don't know how to make one.'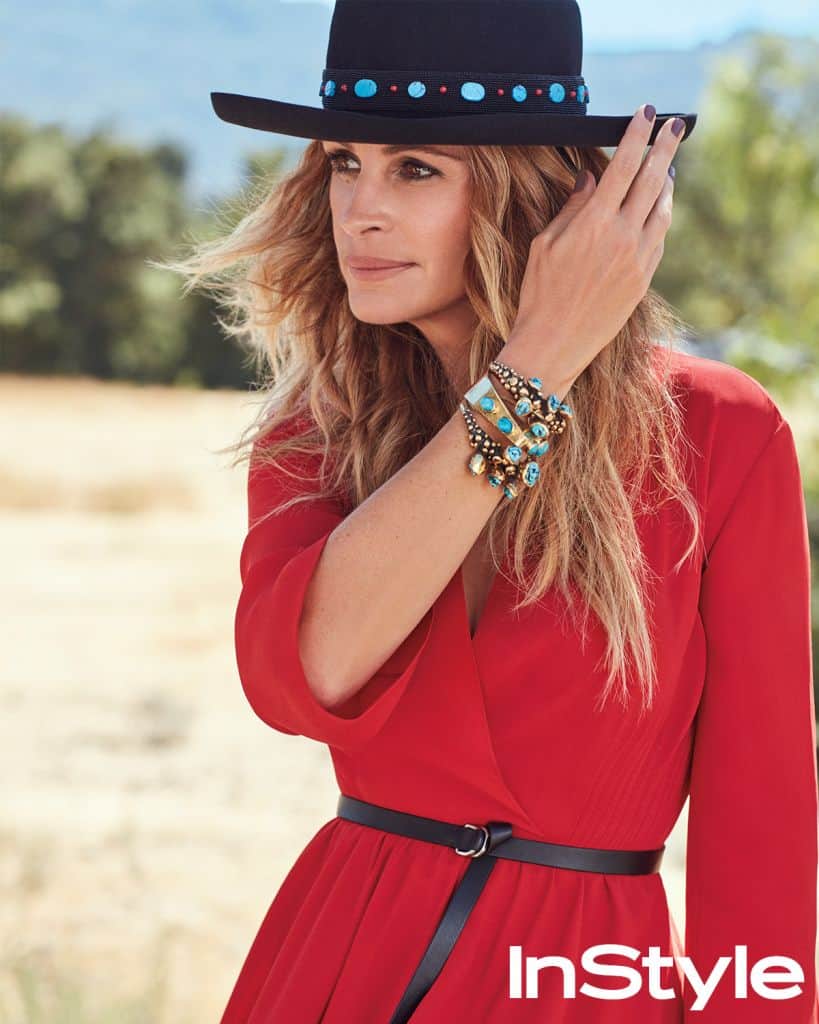 After sitting out the movie business for more than a year, Roberts – also a face of Lancôme – now has a new film, Wonder (based on the best-selling YA novel by R.J. Palacio), in which she plays Isabel, the mother of a little boy (Room's Jacob Tremblay) with a severe facial deformity. Isabel – who's torn between protecting her child and sending him out into the world, and balancing her own needs as an artist with the needs of her family- is an extremely revealing reflection of who Roberts is right now. Asked how she feels about her life today, she says, 'There's no way to describe it without sounding sappy or ridiculous because everything in my mind ends with an exclamation point. And the thing is, we have these three human beings who are just a complete reflection of the affection we have for each other.' She goes on to tell how Hazel recently cut her hair and donated it to Wigs for Kids, an organization that makes wigs for children suffering from hair loss as the result of a medical condition. 'That's a big deal for a girl who's about to be 13 and has this cascading blond hair that gets commented on a lot,' Roberts says. 'But she's so good and brave. She sees it as something else.'
Roberts's own upbringing in Smyrna, Ga., is often described as difficult: Her parents (who ran a theater company) divorced when she was 4, and her father died of cancer when she was 10. But her bonds with her mother, Betty, and her big sister, Lisa, were strong. Of course they were also still siblings. 'My sister and I used to get into knockdown, drag-out [fights], just beating each other up,' she recalls, laughing. 'And then it would be, 'OK, no hair pulling, no scratching' … and we would just rule ourselves out of being able to do anything, and that would be the end of it.' Her brother, Eric, was 11 years her senior, 'so he didn't really play with us,' she says.
Finn, awake again and listening to Mom's interview, whispers into her ear. 'That's not a playful story!' she tells him. She shares it anyway: 'Eric would pin you down and spit in your face and then, before it hit, suck it back up. And he didn't always have the timing to suck it up. There were probably a couple of years in my little life when really all anybody ever heard me say was 'Daddy!' and he would come grab Eric by the scruff.'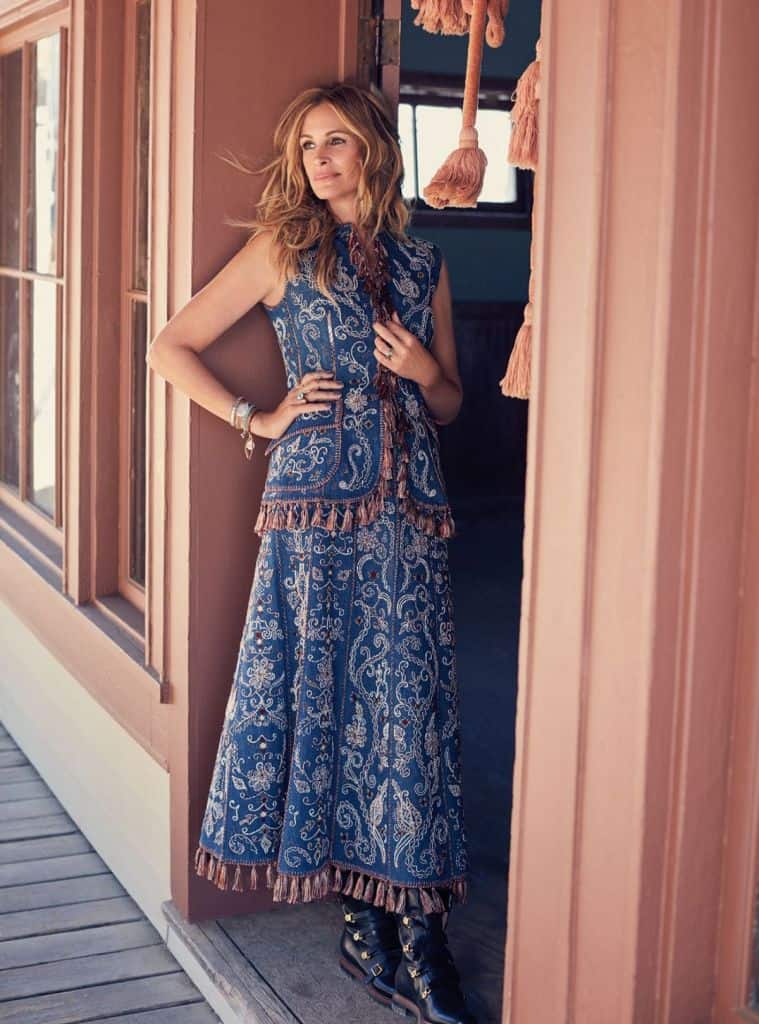 After high school, she followed Lisa and Eric to New York City. There she worked at odd jobs between auditions. Of all the employees at the Athlete's Foot on the Upper West Side, Roberts says with pride, she was the fastest shoe lacer. She was working at an Ann Taylor store at South Street Seaport when she auditioned for 1988's Mystic Pizza. During the audition process, she was advised to dye her copious, curly blond hair dark brown. She accomplished this with an entire can of colored mousse. 'It was so brown and stiff and curly, and I had this audition with Adam Storke,' who ultimately played her love interest in the film. 'I was so self-conscious of how stiff my hair was – and he's touching it, and his fingers are turning black.'After the audition, on the way from the subway to her apartment, she got caught in the rain, which sent the mousse dripping down her entire body. Still, she got the job. Steel Magnolias, Pretty Woman, Flatliners, and megastardom soon followed.
For nearly three decades now, watching Roberts's life unfold has been a kind of national pastime, but she avoids reading things about herself. Earlier this year she told me, 'I do believe that I don't need to know every weird, mean, untrue [tabloid claim]. I only eat popcorn or my husband doesn't love me unless I wear blue.' She says her frequent trips to the grocery store are 'usually an uneventful experience. There is the odd occasion where I'm waiting, and I'm looking around, and'- seeing a tabloid headline about herself- 'I'm like, 'What?!' And turn to the man behind me and go, 'Not true, sir!'
Somewhere along the way, Roberts has learned that fame and other people's opinions are best left unacknowledged. She's successfully achieved normalcy, regularly playing mah-jongg with friends and eating dinner with her family every night. 'I truly love cooking,' she says. 'One of my favorite things about Thanksgiving is you can just spend days cooking. You aren't obligated to do anything else. I think I got that from [my mother] and learned by being in the kitchen with her, watching her do it.'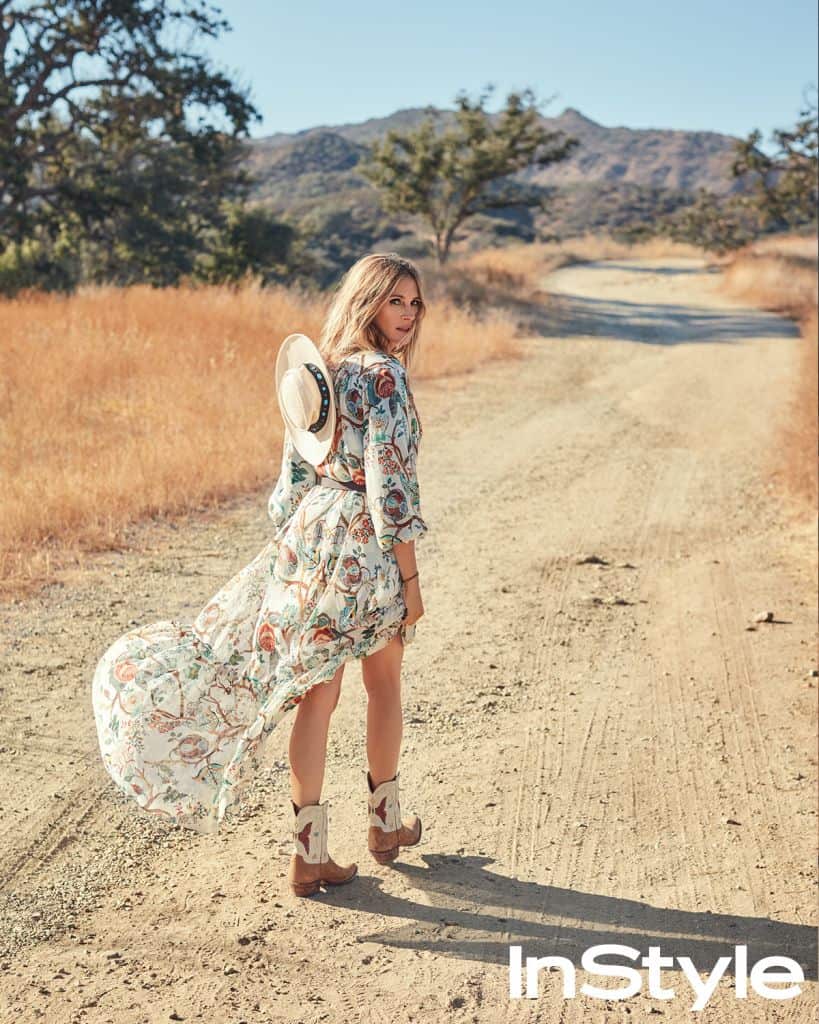 Betty died after a battle with lung cancer in 2015, and Roberts is still recovering. That – along with the deaths of two close friends and mentors, Closer director Mike Nichols (in 2014) and Pretty Woman director Garry Marshall (last year) – has caused her, she says, to focus on 'where you invest your love in your relationships.'
Roberts's mother remains a constant presence in her life. Inspired by Betty's talent for making everything from scratch, she likes to give friends and family homemade Christmas gifts. She once gave out vintage cookie jars she'd collected, each filled with homemade cookies. 'One year I did needlepoint things,' she says. 'I would do, like, a needlepoint tray or a needlepoint door brick. Doesn't that sound like a present you would want to get? A needlepoint door brick?' Finn pipes up again, 'We have a needlepoint door brick.' Roberts smiles and says to him, 'We do have one Grandma made.'
When her mother was dying, 'we were all really with her every minute up to the end, laughing with her and just having this insanely fulfilling experience,' she says. 'My kids' perspective on it was incredibly nourishing for me. I was their age when my dad died. Death was so mysterious and weird and scary. It was treated in a very strange way back then. I just absolutely wanted them to have the opposite experience with their grandmother. Danny was totally supportive in that. It was a completed experience they had with their grandmother as opposed to an interrupted experience.'
Toward the end of the day, Hazel arrives, fresh from school (meanwhile, Henry is at soccer practice), and finds her mom sitting in the makeup chair as Serge Normant, Roberts's longtime friend and hairstylist, prepares her for the last shot. Roberts asks her daughter, 'Can you believe this is what I call work?' which makes Hazel laugh. Asked what an ideal day for her family entails, Roberts answers, 'I would say that our ideal days are kind of our typical days.' She says that lately – because Moder has been away working on a movie – 'the only thing missing is my husband, who'll be home in a few weeks.'
'And,' Finn adds, 'soccer every day.' 'And soccer every day,' confirms Roberts. 'All roads lead back to Danny. And soccer.'
by jess cagle / photographed by carter smith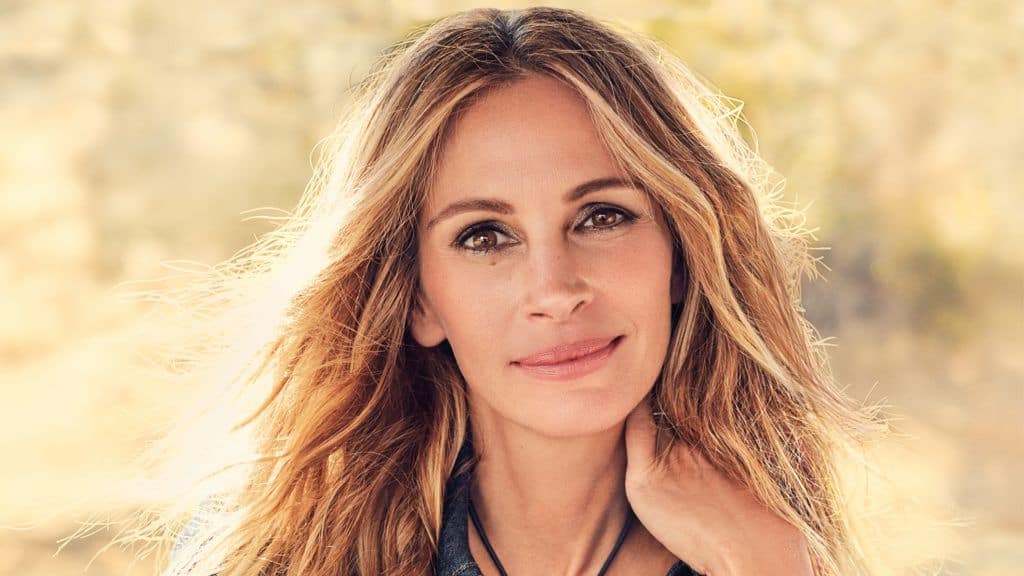 Julia's Favorites:
Haircare hero: Serge Normant Dream Big Instant Volumizing Spray.
Sneaker obsession: 'There's a sneaker obsession in my house, says Roberts. 'We're loving Adidas.'
Denim must-have: Mother jeans.
Style icon: 'Diane Sawyer is eternally chic.'
Song on repeat: Wish I Knew You,' by The Revivalists.
Top travel spot: New York City.
Dream designer: Stella McCartney.
Signature scent: Lancôme La Via Est Belle.
Statement sunglasses: 'I can't change my sunglasses like handkerchiefs, because they're prescription. But I love Gucci.'
Binge-worthy tv show: Ozark.
Best boots: 'Vintage cowboy boots are never out of style.'
Restaurant pick: 'I like a good bowl of pasta from Lupa in New York.'
Go-to jewelry: Jennifer Meyer.
Shopping spot: 'Heist on Abbot Kinney Blvd. in Venice.'
Current read: 'How to Behave in a Crowd [by Camille Bordas]. It's so good.'
Makeup mvp: Lancôme Grandiôse Extrême Mascara.
Cozy essential: R Label cardigan.
Fave handbag: Givenchy duffel bag.
Skincare savior: Aquaphor.
Winter essential: Patagonia jacket.
Beauty splurge: 'A spa day.'