Dit weekend las ik de de coverstory van de december editie van de Amerikaanse Glamour. Chrissy Teigen (33) siert één van deze Amerikaanse Glamour Women of the year covers. Het model (1.74m) is moeder van een zoontje Miles en dochter Luna, vrouw van John Legend, model, schijfster van 2 kookboeken (Cravings), had een postnatale depressie, is sinds Trump aan de macht is zeer politiek betrokken en als je haar – net als ik – op Twitter (ze deelt alles!) volgt kan je niet anders dan van haar houden. Lees je even mee?
Chrissy Teigen Is the Unofficial Voice of Generation Fed Up. So funny. So true. And so damn necessary. When Chrissy Teigen became one of the most relatable people on the internet, she also assumed the role of mouthpiece for an entire generation.
Chrissy Teigen has lost her voice. "I'm so sorry," she rasps as we sit in a tiny Korean restaurant in New York City. Since giving birth to Miles, her second child with husband John Legend, in May, the 33-year-old model turned TV host turned everyone's favorite social media spirit animal has been readjusting to her jet-setting schedule. "Everything is totally hitting me, and I'm very overwhelmed, and it's like my body can't take it," she says, picking up the menu. Fortunately there's a temporary balm for this condition. "Do you want a glass of wine?" she asks, her eyes glinting. As the waiter deposits two large glasses of sauvignon blanc on the table, she has three words: "Yes, please, God."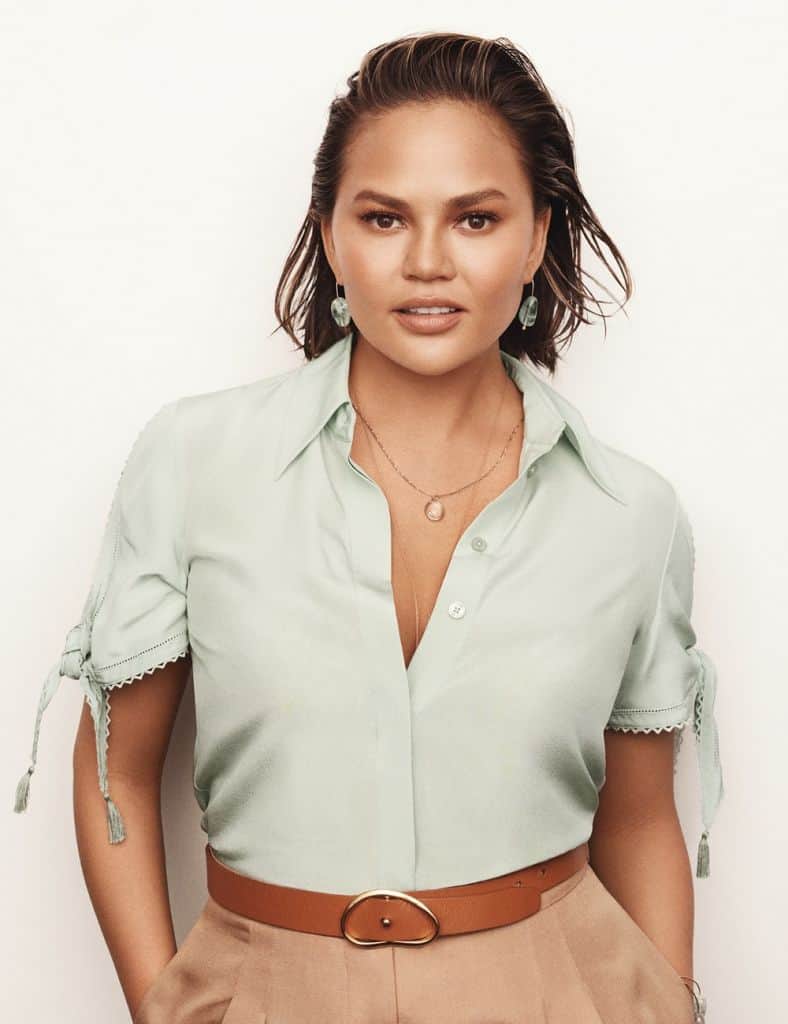 It's a little after noon on Wednesday, but for Teigen it's already been a week: Three days prior she accompanied Legend to the Creative Arts Emmys, where he became the first African American man to achieve full EGOT. Then she flew to New York to promote her second book of maximalist recipes, Cravings: Hungry for More. But it was the latest episode of Lip Sync Battle, the celebrity "singing" competition on which she appears as host LL Cool J's hype woman, that did her voice in. Producers arranged an on-air celebration for her mom, a Thai immigrant who recently became an American citizen. "She was so happy," Teigen says, choking up a little as she flicks through pictures on her iPhone of her mom onstage with a dancer dressed as Times Square's famous Naked Cowboy. "You forget, as crazy as the world seems right now, people are still extremely excited to be a part of this country," she says. "I thought she was going to sob. And instead she just hit the Naked Cowboy's butt."
Now we know where Teigen gets her ability to land a punch line. She may be vocally compromised at the moment, but her nearly 11 million Twitter followers can count their lucky stars that she still has her fingers, which are just as itchy as the current president's. When President Trump tweeted, "We must keep 'evil' out of our country!" in 2017, she replied, "What time should we call your Uber?" It's digital bons mots like this that earned her the title of Twitter's "undisputed queen" from none other than BuzzFeed, which does brisk business aggregating her observations into lists with titles like "100 Hilarious Chrissy Teigen Tweets We Honestly Need to Talk About More." She's just as candid in real life – on the Watch What Happens Live With Andy Cohen after-show, she revealed she and Legend did it on their first date.
In an age when celebrities carefully guard their words, her candor connects. "I think the thing that resonates is that she is 100 percent authentic," says Teigen's longtime hairstylist, Jen Atkin. "She's really tweeting like no one's watching." These days Teigen has graduated from posting about being hungover and puking into a bag of Cool Ranch Doritos to real talk about everything from breastfeeding struggles to dealing with mommy shamers. Her ability to share these universal truths with humor has challenged the boundaries of what's appropriate for mothers in the public sphere. And her openness about late-onset postpartum depression has helped shed light on an issue that too often goes undiscussed. "I think the most surprising thing for me was that it happened three months after," says Teigen, who was on the set of Lip Sync Battle dressed as Eleven from Stranger Things when she realized something was amiss. "I thought postpartum was, you have the baby and you're sad. It was like, no. It sneaks up on a lot of people. That's why I thought it was important for me to talk about."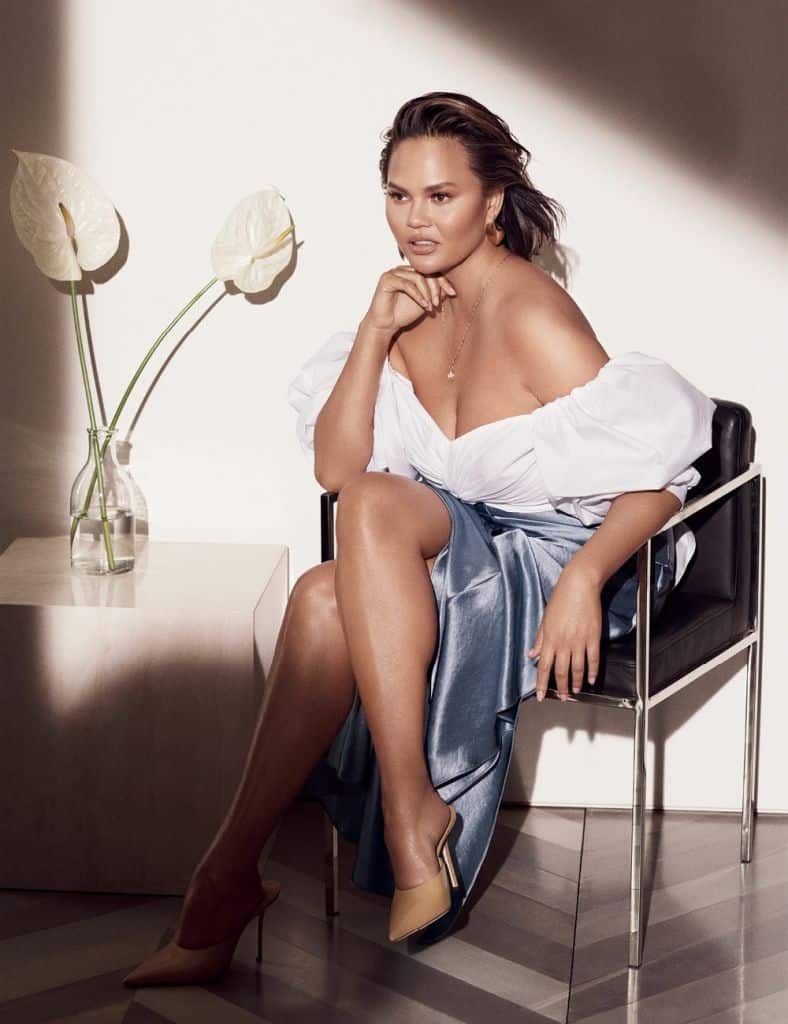 Growing up in Snohomish, Washington, a farm town 45 minutes north of Seattle, Teigen never imagined she'd be in a position to change cultural conversations. "When I look at the most successful people around me, I feel like they all had plans," she said. "But I never had a plan. Never. I used to be on antianxiety medication because I was confused. I didn't know where I was going in life. All I knew when I was younger, or when I was 18, was that I wanted kids and a husband." Even after her family relocated to Huntington Beach, California, and she began working as a catalog model, her aspirations remained modest. "Maxim Hometown Hottie," she says. "That was the dream."
Instead she landed the Sports Illustrated Swimsuit Issue, which was perhaps more wholesome. "Sports Illustrated was so good for me, just because they put more focus on personality," she says. "I never saw it as a jerk-off moment. I never thought about a man flipping these pages and looking at me and being like, Yeah. For me it was like, 'I want to be the chick that I want other girls to see and be like.'" She remembers living "week to week" and taking opportunities as they came – like appearing in the video for Legend's 2007 "Stereo," which featured Teigen writhing against the singer in what, thanks to Andy Cohen, we now know to be foreplay.
At first Teigen was intimidated by Legend, a "brainiac," as she puts it, who started attending an Ivy League school at age 16. In 2009 she accompanied him to the Time 100 gala. "It was a table of, like, Oprah, Michelle Obama, and this woman who ran an incredible charity about sex trafficking in Southeast Asia," she recalls. "At this point, I wasn't anything. I remember going back to his dressing room and sobbing." That same month Teigen found her voice on social media. "Puddy just bit my nipple and I think it's gone," she tweeted, referring to her now deceased bulldog, "are these the kind of updates Twitter wants?"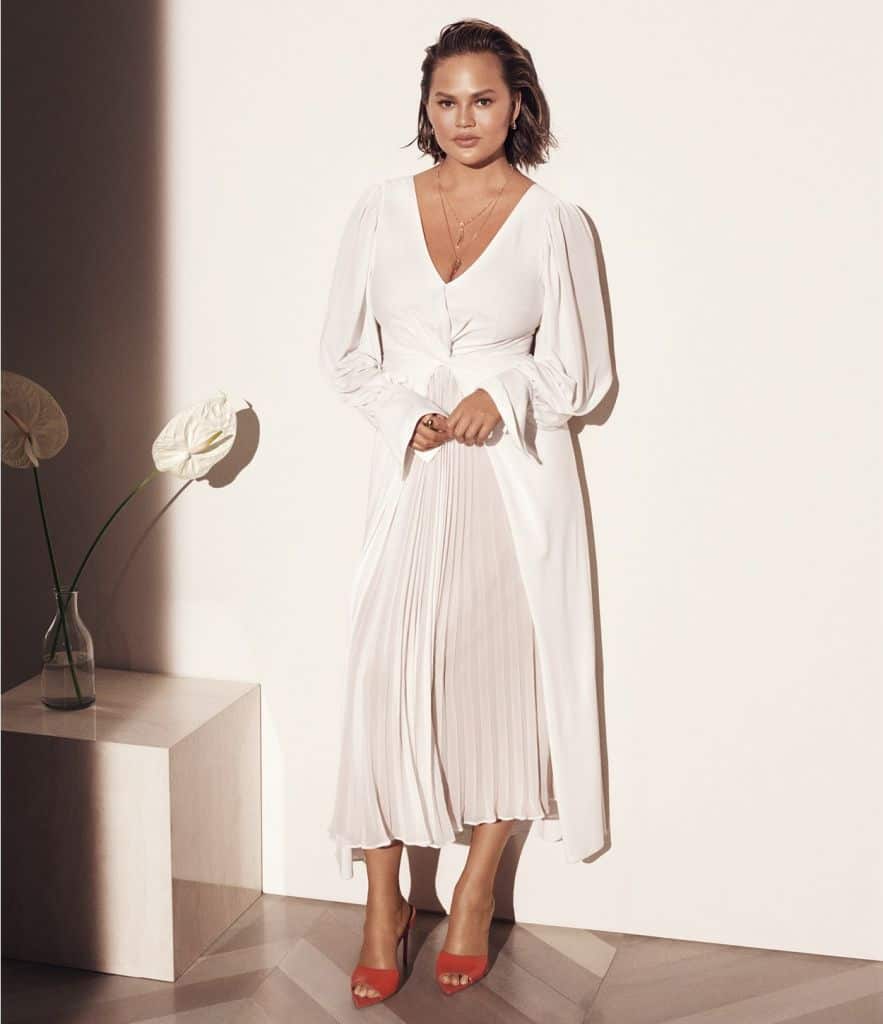 The answer: a resounding yes. "It's weird to think about now, but that was sort of the first time someone on the page had a voice," says Teigen's friend and fellow Sports Illustrated cover girl Brooklyn Decker. "Models were still kind of a figment of other people's imaginations, and all of a sudden here is this incredibly bright, incredibly candid person who people connected to in a really big way." Not everyone in Teigen's life understood the appeal. "People are like, 'Why do you have time for all of these strangers?'" she says. "But that is my outside connection to the world. I genuinely love doing it. I always have. I enjoy talking to people and feeling like I know them and having this conversation."
While Teigen's "smart mouth," as her husband famously put it, has provided relief to many, it's also earned her a few enemies. After a tweet in support of gun control led to threats, Teigen briefly abandoned the platform. It's a moment she'll never forget. "That's when it gets scary, because we have kids," she says. She and Legend have considered taking things down a notch. "Our lives would be so much easier if we didn't dabble in politics at all," she says, "but I don't want that kind of life. For us, we are willing to take that risk, because we believe in it so passionately." This year, in honor of Trump's seventy-second birthday, she and Legend donated $288,000 – $72,000 for each member of their family – to the ACLU in his name. "We're still just as fucking angry as we were a year ago," she says, "but instead of just tweeting about it or creating a hashtag, it's about what we can do to make it better.
"So is it safe to say that these days Teigen knows her worth? She drains her glass of wine. "I still don't know my exact job title," she says. "I have no idea what is going to happen six months from now. I don't know anything. But maybe that's the way it works for a lot of people. And I'm OK with that."